Will science emerge as the real champion in a football rivalry gone bad?
Welcome to Season Two of Tiny Expeditions. This season will take you on little journeys into the tiny science of agriculture. We will venture through a peanut field to learn how science could save your favorite candy bar, make a stop in a local craft brewery to learn how genetics is improving yeast, hops, and barley to make a better craft beer, and many other interesting trips.
But first, we are digging into a football rivalry gone bad and the science that emerged as the victor. The year was 2010 and it was a typical fall football season in the south. The University of Alabama and Auburn University football teams were geared up, ready to go face-to-face in the annual Iron Bowl game at Bryant-Denny Stadium in Tuscaloosa.
After a dominant Alabama start, Auburn was down 24-0 in the second quarter of the game. Through grit, determination, and a little luck, Auburn would come back to win 28-27. Alabama fans were disappointed and upset that their boys blew a double-digit lead and lost such a big rivalry game at their home stadium.
One Alabama fan in particular took his anger to an extreme level and poisoned the iconic Toomer's Oak trees just weeks after the Iron Bowl loss. In our first journey this season, we met up with two researchers that are helping to turn this arboreal tragedy into a scientific victory.
Listen to Tiny Expeditions Season 2, Episode 1: Will Science Emerge as the Real Champion in a Football Rivalry Gone Bad? to learn the fate of the poisoned trees and how they inspired a project to increase equity in scientific education.
The Toomer's Oak tree genome project begins at HudsonAlpha where long fragments of DNA are extracted from leaf tissue and read with high accuracy on cutting-edge sequencing machines. This is Dr. Alex Harkess who is leading the efforts of the sequencing at HudsonAlpha.
The raw data from the sequencers travels back to Auburn's campus where the job of assembly, requiring complex algorithms and massively parallel computation, is being performed on Auburn's Hopper Supercomputer. This is a photo of Dr. Les Goertzen who wrote the Tiger Giving Day proposal with Dr. Harkess and teaches the Toomer's Oak tree genome course at Auburn.
On the day we visited Dr. Harkess' lab we got an exciting surprise—lab manager Haley Hale was preparing the Toomer's Oak leaf samples for sequencing.  Before the samples are ready to be sequenced, Haley has to physically crush the leaves to break the cell walls and release the contents from within the cells. Then she uses a chemical to disrupt the cell membranes and release the DNA from inside. The photo on the left shows some of the Toomer's Oak clones from which the team extracted DNA. The tube in the photo on the right contains the extracted DNA in a liquid called a buffer.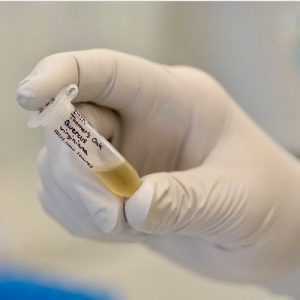 The picture to the left really sums up the collaborative nature of the project! Dr. Goertzen drove eight Toomer's Oak clones (pictured right) all the way from Auburn's campus to HudsonAlpha's campus in Huntsville, Alabama. He stayed to help Dr. Harkess and his team collect samples from the clones. Some of the samples will be used fresh for DNA and RNA extractions. Other samples collected from the leaves, roots, and branches can be used to study nutrient requirements, pathogen resistance or susceptibility, and other traits of the oak tree.
Co-hosts Chris Powell and Dr. Sarah Sharman talking with Dr. Les Goertzen over Zoom.
Due to time constraints, we were only able to share a small part of our journey into the lab with Dr. Harkess during Episode 1.
But you're in luck! We are sharing the full lab tour with you here as a bonus.
Listen in as Dr. Harkess tours us through the amazing lab space that the HudsonAlpha Center for Plant Science and Sustainable Agriculture team is proud to call home.
Reminder: the audio you are about to listen to was recorded using 3D audio. To have the best experience, we recommend listening with headphones. It will sound like you are in the room with us, so don't be surprised if you hear things all around you. Please take caution when listening while driving or operating machinery, we don't want to cause any wrecks or accidents.
Chris, Dr. Harkess, and Sarah in the Genome Sequencing Center sequencer room.
Chris, Dr. Harkess, and Sarah in the Harkess lab
Get the Institute's Shareable Science Blog Delivered Straight to your Inbox