Last year, we planted hundreds of peanut plants by hand using a post hole digger. We have stepped up our game this year thanks to our new tractor.
Members of the Clevenger lab planting peanuts on the HudsonAlpha campus in 2021. (From L to R: BioTrain intern Katherine San Martin, Project Manager Haley Hale, Jason Bunn, Computational Biologist Walid Korani, PhD, and Faculty Investigator Josh Clevenger, PhD)
Today we harvested the first seeds grown and tended in our indoor grow rooms where we can breed and grow peanuts year round with no interruption. We are looking forward to this valuable resource accelerating our genetic improvement program for peanut!
Clevenger lab BioTrain interns Lyda MacComber (L) and Om Badhe (R) celebrating her victory in the Annual BioTrain Foosball tournament.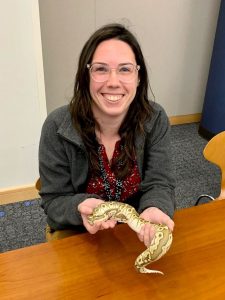 Did you know the Clevenger lab sequences and analyzes many more species than peanuts? Project manager Courtney Valerio is pictured here holding Butter, a ball python that the group recently sequenced as part of a collaborative project looking at ball python genetics and color patterning.
BioTrain intern Katherine San Martin and Walid Korani, PhD, setting up an automated drought phenotype assay the lab is developing.